Why The Adam & Eve Thruster Is The Best Thrusting Rabbit Vibrator?
Hello ladies, this thrusting vibrator's for you!
The Adam & Eve Thruster is a revolutionary new vibrator for women. It takes its shape from the classic rabbit vibrator and then capitalizes on the long wand to deliver powerful thrusts. What is so great about rabbit vibrators? The basic premise is that you have both g-spot and clitoral stimulation. The larger wand on the vibrator is meant to be inserted into the vagina, while the smaller bunny rabbit portion is meant to tickle your clit. Most women enjoy the double action of the rabbit vibrator. A great way to achieve orgasm through g-spot stimulation, the thrusts is strong and steady. And this thrusting feature is unique to this rabbit vibrator. You won't find this capability on just any vibrator. The wand is very flexible making it easy to shape it to hit all your sweet spots.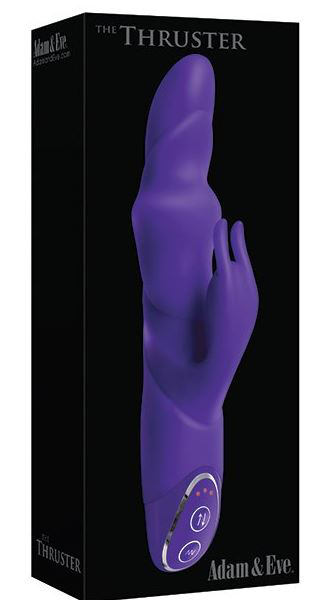 Let's talk so more about the thruster…
As it truly is the best thing about this rabbit vibrator. The motor behind the thrusts is powerful and separate from the clit tickler. It has three different setting so you can adjust the thrusts to your liking. Like having sex, the thruster delivers powerful pleasure to your g-spot. Most sex toys just vibrate and this thrusting rabbit goes the extra mile for you. With just the press of a button, sexy and orgasmic thrusts are yours to control. The total length of this toy is over ten inches with over six inches of insertable play. That means that you'll be sure to benefit from those deep penetrating thrusts. When we think of sex toys, we often time just consider the vibrations. And yes, vibrators are truly wonderful; you sometimes do want that thrusting sensation. It is like actually having sex and feels a bit more physical than just a bullet vibrator or traditional rabbit. When your man is not around, the thrusting rabbit vibrator acts as a trusted boyfriend replacer. In fact, many users find this sex toy to be even better than the real thing!
This toy is made from durable and safe silicone so you know that your experience will not only feel great, but won't do any harm.
The molded shaft is easy to clean with just a bit of soap and water or some special Adam & Eve toy cleaner. Another feature I love about this product is that it is rechargeable! Yay! No batteries. The Adam and Eve Thruster will last for over an hour on a single charge which means you'll have plenty of time to get yourself to climax. Trust me; this thrusting rabbit vibrator can get you there in no time flat. You'll want to use this rabbit vibrator with some water based lube. It is a pretty thick sex toy, so make sure you are thoroughly lubed up before use. The shape is great and there are ridges for added pleasure both near the tip of the wand and further down at its base.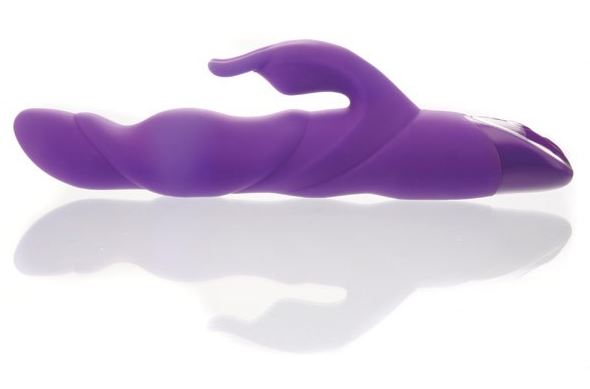 Now, if you're all about clitoral stimulation, this toy is also perfectly capable of giving you what you need.
The toy is marketed for the thrusting wand to be inserted into the vagina. But, I discovered a really great alternative use. Use the thrusting wand externally for clitoral stimulation. Because of the different setting, you can choose a faster or slower motion and really stimulate the clit really well. That's not to discount the wonderful sensations you can get from the rabbit tickler. That little guy works really well too! It has seven different modes to make sure you're getting proper clitoral stimulation. If you decide to use this toy with a partner, you're in for a treat! The thrusting rabbit vibrator is so easy to use that you and your partner can have a lot of fun with it. Let him or her control the settings to deliver a surprise to your lady parts. The possibilities are endless with all the different functions. You can also use it on a male partner for anal stimulation. The thrusts against his prostate or perineum will be equally enjoyed.
Overall, the Adam & Eve Thruster vibrator is a solid sex toy that boasts the capabilities of a rabbit vibrator and pairs them with the thrusting action you want.
It's beautiful in purple and pairs well with any water based lube. If you have had trouble reaching climax in the past, I highly recommend you try this rabbit vibrator. It truly has all the bases covered. You've got both g-spot and clitoral stimulation with wonderful vibration setting and powerful thrusting motion. Other thrusting vibrators just don't pack the punch that this rabbit thruster does. Once you put it in, you'll never want to take it out. It is a miracle worker. Go ahead and replace an older iteration of the rabbit vibrator. The technology has changed and both the rechargeable feature as well as the newer motor in this guy makes it a huge upgrade. Fall in love with this beautiful thrusting rabbit vibrator; it is a real game changer. I adore all of my sex toys, but the rabbit vibrators are really the best. And, this thrusting vibrator is now my favorite go-to sex toy. I have been telling all of my girlfriends about it and hope you too will spread the g-spot gospel. Alright ladies, it's time to hit new heights with this stellar thrusting rabbit vibrator. Onward and upward!
Wanna get this amazing thrusting vibrator today at the best deal ever? Order online today at AdamandEve.com and at checkout, put in SCORE50 and you'll get 50% OFF on almost any single item plus Free Discreet Shipping, 3 amazing DVDs, and a Free Mystery Gift.