Summary rating from user's marks. You can set own marks for this article - just click on stars above and press "Accept".
Accept
Amazing Kegel Muscles With Nen Wa Magnetic Kegel Balls
Are you ready to have your socks knocked off?! I'm Destiny and I am here today for https://sextoysratings.com reviewing products from Adam and Eve!
So, our product for today is the Nen Wa Magnetic Kegel Ball. Please watch my full video below because I will give you a special code that's going to give you 50% OFF, FREE Shipping on your entire order, 3 FREE hot DVDs, and a FREE Mystery Gift.
The Nen Wa Magnetic Kegel Balls.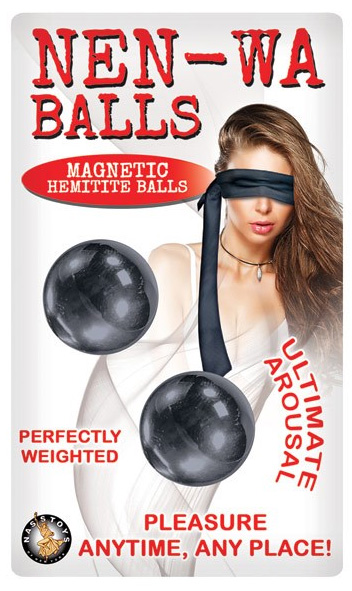 These are magnetic balls; they're kind of a twist of the traditional Ben Wa Balls. They are a little bit heavier than the traditional ones that I have seen. They are about 2.0 ounces each and about 1.18 in diameter. They're kind of a little bit heavier.
Watch also: Willow's Review of Crystal Premium Glass Eggs
It's really great on exercising your Kegel muscles. When you get stronger Kegel muscles, you're going to have more intense and powerful orgasms, and your partner will going to love it as well. Just imagine having that amazing Kegel muscles and you're able to "grab" his erection which is more pleasurable for him, and for both.
Now, Nen Wa Magnetic Kegel Balls are very discreet so you can wear them anytime that you want…
You can wear them while exercising or while you're at work so you can exercise your Kegel muscles anytime you want. They're waterproof as well so you can wear them in the shower or tub and make them easy to clean as well which I love. I really need to mention to you is that these are for vaginal play only.
As promised, I have that special code for you and that code is SCORE50. How to use this code? Go to www.AdamandEve.com and use that code at checkout. It's going to give you 50% OFF on the Nen Wa Magnetic Kegel Balls or almost any other item. It'll also going to get you 3 FREE awesome DVDs, a FREE Mystery Gift and FREE Shipping on your entire order. So, make sure you head on to www.AdamandEve.com today for this limited time offer and enter the code SCORE50 at the checkout.
You may also be interested in: