Summary rating from user's marks. You can set own marks for this article - just click on stars above and press "Accept".
Accept
Hot Sex Toy Tester Christina In Her Ling O Vibrating Tongue Ring Review
Hey Guys! This is Christina of www.SexToysRatings.com.
Today I'm going to review the Ling O Vibrating Tongue Ring from Adam & Eve.
But before that, let me tell you that I am going to give you a special code that's going to give you HALF OFF plus Free Shipping and more so make sure to watch my video below until the end.
So, let me give you the closer look of Ling O Vibrating Tongue Ring. This toy is made of silicone. I personally love silicone coz' it's soft and it's comfortable, and another big plus about this toy is that it's easy to use.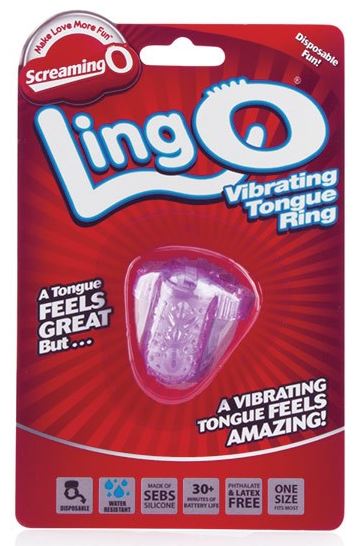 So, how does this toy works? You take the stretchy band that's on the back of it and you slide it on about half inch on your tongue and you put the body of the toy on the roof of your mouth. So, what this toy does is it makes your tongue as a human vibrator. How cool is that! The Ling O Vibrating Tongue Ring is also waterproof and the biggest thing that I want to tell you that I'm as well surprised by the Ling O is how strong the motor is. When I buy any toy that has anything to do with vibrations, that's super important to me how intense the vibration is and how strong the motor is. For something that is so small, I was actually really impressed with how intense it was. So, double thumbs up on the intense of this toy's vibration.
So, if you are looking to spice things up with your partner just add a little something in foreplay. This is definitely the toy to add to your collection. It's amazing! And, if you go to www.AdamandEve.com and enter the code SCORE50 at checkout, you're going to get the Ling O Vibrating Tongue Ring or almost any other item at HALF OFF. Plus, you'll get 3 Free DVDs and a Free Mystery Gift. Most importantly, you'll get Free Shipping on your entire order. So remember, special code SCORE50 at www.AdamandEve.com. This offer is not gonna last forever so make sure you go to Adam & Eve and use that code guys.
Visit this site always coz' we're gonna feature new videos every week. Thanks everyone!
You may also be interested in: